What to Expect
If you've ever gone to a social event where you didn't know anyone, you know how uncomfortable that can make you feel. Our goal is to make you feel very welcome and relaxed when you come to see us for the first time. We want you to know exactly what to expect on every visit so that your time with us can always be pleasant and rewarding.
Your First Visit
You'll be greeted warmly by one of our friendly and compassionate staff members who will give you a quick tour of the office, including our complimentary coffee bar and refreshment service. We'll guide you through the completion of your paperwork and will then escort you to a private room to meet with the doctor. Dr. Wright's initial evaluation is gentle and focused. It will consist of several parts:
Consultation: A review of your health history and goals to determine if you're a good candidate for chiropractic care
Range of motion assessment
Review of neurological function
Muscle testing
Orthopedic testing
X-rays, if necessary
Dr. Wright will then review your clinical findings in helping to create a comprehensive treatment plan that will help you to get out of pain quickly. If he feels that you need additional diagnostic testing or a different form of therapy, he'll make the most appropriate referral for you at this time.

Your Second Visit
During this appointment, Dr. Wright will provide you with a report of findings, which is a detailed explanation of your exam and X-ray results, and how they relate to your current symptoms. He'll let you know if your problem can be helped through chiropractic care and how long it will take. You'll then have the opportunity to decide exactly how you want to approach your care with us.
Regular Adjustment Visits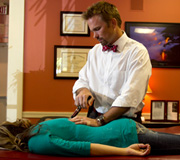 The typical visit to our office is all about you! Our staff is warm and accommodating and concerned about your well-being. We always offer complimentary refreshments, pleasant music and a welcoming atmosphere to help you relax and unwind.
We respect your time, so we've created a system where the average wait time in our office is less than 15 minutes. Our care programs are always customized to your needs and goals. Patients never have to experience a cookie-cutter approach to care. You'll also find that at the end of each gentle and specific adjustment, we'll provide you with additional tailored instructions as to what you can do at home to speed up your recovery.
Our office is also child-friendly, so kids are always welcome to hang out while mom and dad (or grandparents) get adjusted. In fact, ask about our healthy kids' program, too!
We're ready to help with the tools and expertise necessary to get you out of pain quickly.
Schedule your appointment today
at our modern, friendly office and see the difference that chiropractic can make in your life!
---
Central Chiropractic & Sports Medicine | (704) 829-9200